Today there is one new item, the Dog Sled from 2012 and 2011, sold in Jam Mart Furniture.
For today's side topic, I bring unfortunate news, at least I think so. I cam across a review of Animal Jam on a gaming website called "MMOHut",
click here to visit it
. It says, "Based on a kids show of the same name..." Many of you already know what that means. Many Jammers know that when searching for Animal Jam things often articles about a TV show that is also named Animal Jam show up. I always thought it was a weird coincidence, but apparently not.
This TV show was produced by Jim Henson, the same person who made The Muppets. Take a look at this image of the Animal Jam TV show: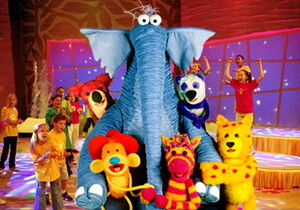 Shows like this annoy me, because they are pointless and look ridiculous. I really wish AJ wasn't based on a little kids TV show. What do you think? Tell me in a comment!
~Gecko~